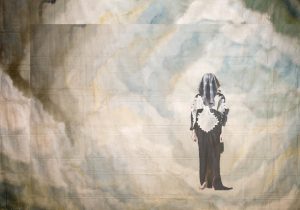 © Alexander Meeus / Alix Eynaudi
Noa & Snow, a gentle experiment between the everyday and the event
Noa & Snow is a choreographic event during which the audience is given the possibility to write. It is a proposition to discover the everydayness of both practices in a way that complicates the notion of the everyday itself. A writing atelier becomes a performance, a choreographic studio turns into a poem. Conceived as a choreographic social experiment, Noa & Snow gently allows rather than guides, it implicates rather than explicates.
The project aims at exploring the capacities of poetry to ignite imagination across several writing modes and genres in order to shed some light on the possible articulations between performance practices and writing practices.
Session 1: Subtunes, 10th of November 2018 at the Volkskundemuseum in Vienna, in collaboration with Brut Wien and in the frame of Wien Modern. Special guests: Han-Gyeol Lie, piano forte, Lydia McGlynchey, dancer and Monika Schwarz, piano tuner, An Breugelmans, costumes. With the support of Kulturabteilung Josefstadt Wien.
Session 2: in Copenhagen between the 4th and the 7th of April 2019, during the festival Close Encounters Vol 2, organised by Dansehallerne at Den Frie gallery. Featuring in Copenhagen / Cécile Tonizzo, An Breugelmans, Adriano Wilfert Jensen, Julia Müllner, Andreas Haglund, Paolo de Venecia Gile, the students of the Danish National School of Performing Arts (2nd year).
Project funded as of September 2019 by the Austrian Science Fund (FWF), Peek, Projektnummer: AR 553.
This project was made possible by the trust and with the help of Quim Pujol, Paula Caspão, Agnès Quackels, Jennifer Lacey, Alice Chauchat, Jacopo Lanteri, Raimundas Malašauskas, Sarah Blumenfeld.