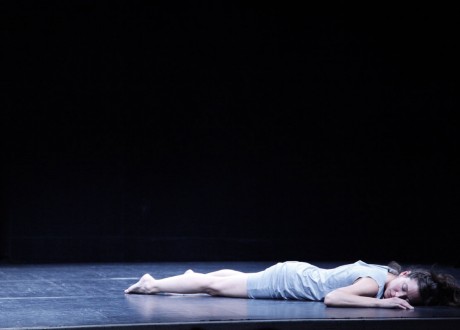 © Hendrik De Smedt
EXIT
"To be or not to be, (…)
To die, to sleep, no more (…)
To sleep! Perchance to dream (…)"
William Shakespeare, Hamlet, Act III, Scene I
EXIT is the title of a research project that Kris Verdonck and dancer and choreographer Alix Eynaudi carried out together, in collaboration with Rutger Zuydervelt (Machinefabriek).
The basis of this project is a question: in a traditional theatre set-up, using all the media at the theatre's disposal (lighting, sound, movement, language, images, stage design, etc.), what influence can we have on the sensory perceptions of an audience? To what extent are artists capable of manipulating the spectator's consciousness (and subconscious) using these theatrical means?
An audience comes to the theatre to 'undergo' or 'experience' something. What stimuli do our brains absorb in the course of everyday life, and how do they differ from those received during a performance? In theory, the audience enters the theatre in a state of openness and receptiveness. They sit, immobilised, in seats in the darkness of a heated theatre. Physically, they are forced to remain passive, and mentally, as a result of the concentration they need to take in what is being shown, they are in an 'altered' state of consciousness, a state of attentiveness different from that of every day (before and after the performance). These conditions can be manipulated, for example by making the darkness even more complete, by raising the temperature in the theatre, increasing the comfort of the seats, and so on.
But what sensory stimuli that can be produced onstage are able to induce sleep? We know from our experience of the cinema and television that sound can create tension, but can certain sounds also bring about complete relaxation? Are there particular types of light that can weaken our attention or even shut it down? Do narrative structures have a greater impact on our alertness than abstract forms (cf. dance and music) in which repetition plays an important part? Do concrete conflicts, situations and characters hold our attention more? Do we follow a line of dramatic development consciously, unconsciously or subconsciously? And what about the language, which we try to understand but which can also have the effect of an incantation, or bring about a stupor or intoxication
In addition to generating all sorts of experiments with theatrical parameters (costumes, lights, the twigging of the artist's presence), Kris Verdonck and Alix Eynaudi also involved the knowledge of scientists and parascientists in their working process: they contacted sleep specialists, brain researchers and hypnotists.
EXIT premiered on August 18th 2011 during the Über Lebenskunst festival in Haus der Kulturen der Welt in Berlin. Über Lebenskunst is an initiative project of the (German) Federal Cultural Foundation and Haus der Kulturen der Welt.
more on A Two Dogs Company's website
credits
Concept: Kris Verdonck & Alix Eynaudi
Dance: Alix Eynaudi
Dramaturgy: Marianne Van Kerkhoven
Music: Rutger Zuydervelt / Machinefabriek
Light design & technique: Luc Schaltin
Costumes: An Breugelmans
Internship: Noriko Beyens
Production manager: Hendrik De Smedt
Production: A Two Dogs Company
Coproduction: ÜBER LEBENSKUNST an initiative project of the Federal Cultural Foundation in cooperation with Haus der Kulturen der Welt, Berlin DE
With the support of: the Flemish Authorities, the Flemish Community Commission
Thanks to: Dr. Jan Lehembre