Noa & Snow is a 2 years research project funded by the Austrian Science Fund (FWF): Projektnummer: AR 553. Starting September 2019.
In the frame of this research, a series of public events will take place from January 2020 on in Vienna, Lisbon and New-York.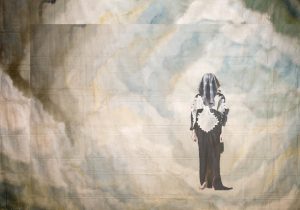 © Alix Eynaudi / Alexander Meeus
Noa & Snow, a gentle experiment between the everyday and the event
At the crossroad between curating, writing and choreography, Noa & Snow becomes an organisation of working, studying together, an event that skirts the already established modes of artistic production and organises its own poetic encounters.
Noa & Snow wants to experiment
Using poetry as a common tool to welcome otherness and the unexpected into our domestic lives, our daily work activities
Placing art in everyday life in order to establish new relationships with the event and the exceptional (the Performances will be presented at the Volkskundemuseum, during working hours and will be for free)
Opening a space where art meets other ordinary work activities, in a non-hierarchical way (a co-working public art studio)
Producing a kind of non-attentive attention, a non-oppressive dramaturgy that allows rather than guides (art rendered "ambient" by its contextualisation, not its nature)
Noa & Snow proposes to use poetry as a vehicle to explore otherness, coexistence, hospitality, care and collectivity.
The core research team is composed of Alix Eynaudi, Paula Caspão, Lydia McGlinchey and Quim Pujol.
Conceived as a choreographic social experiment, Noa & Snow wants to gently allow rather than guide, to implicate rather than explicate. The fact that the project runs over 2 years, will allow the fellowship formed by the team and their guests to exerce various scenarios of political and social engagement via their commitment to an artistic practice.

project leader Alix Eynaudi co-researchers Paula Caspão, Quim Pujol production Eva Holzinger und Sophie Schmeiser bookkeeping and consulting Smart Austria / Angela Vadori 
funded by the Austrian Science Fund (FWF) – PEEK Programme for Arts-based Research, project AR 553 national partner Volkskundemuseum Wien co-produced by brut Wien and boite de production

boite de production is supported by The Creative Europe Programme of the European Union through Life Long Burning – Kulturabteilung der Stadt Wien


Thanks to Quim Pujol, Paula Caspão, Agnès Quackels, Jennifer Lacey, Alice Chauchat, Jacopo Lanteri, Raimundas Malašauskas, Sarah Blumenfeld, Herbert Justnik.