Restshop #3 together with Ujjwal Kanishka Utkarsh* at Tanzquartier Wien

25.09 – 29.09 2023
In Restshop #3, the library of the Institute of Rest(s) meets Ujjwal Kanishka Utkarsh's film practice.
Restshop is a series of collective studies articulated around a library, a practice in which books slide, literally, under our skins; a space to exercise our rests in the arms of words and sentences and poems, a space in which to (dis)articulate thoughts by re-practising forces that already exist. Together. Restshop #3 will be an encounter with/deal with/engage with/intersect with the stillness of moving images.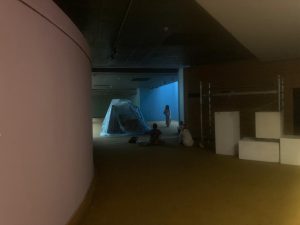 *Ujjwal Kanishka Utkarsh is a PhD in Practice candidate at the Academy of Fine Arts Vienna. He has been working towards developing a form that emerges from the observational cinema tradition and continues that through his PhD project. In his current ongoing work, he is trying to see if and how he can look at and reflect upon political activity through this form. In the current political situation, where the space for voices of dissent is rapidly diminishing, truth is either viewed very simplistically and reality as objective or the post-modern perspective renders all truth relative and all reality socially constructed. In this context, this is also an exploration to see if such ideas of observational form could create a space that avoids the pitfalls of both these seemingly untenable theoretical extremes. Ujjwal primarily makes films while frequently dabbling into other forms like photography, sound, and theatre. He also often collaborates with performance artists and dancers. He has been and still does teaching various aspects of filmmaking and video art in several universities across India.
Restshop #3  is part of the research project entitled Institute of Rest(s). This research is developed within the Research department of La Manufacture – University of Performing Arts, Lausanne, with the support of the HES-SO University of Applied Sciences of Western Switzerland. In partnership with Tanzquartier Wien , La Grange Center /Arts et Sciences / UNIL Lausanne, Xing Bologna, Le Far Nyon, Tanzfabrik Berlin, Volkskundemuseum Vienna, ImpulsTanz Vienna.
This work is deeply indebted to Paula Caspão, Cécile Tonizzo, Sabina Holzer, Ujjwal Kanishka Utkarsh, Quim Pujol, Joachim Hamou, Emma Bigé, Mark Lorimer, An Breugelmans, Paul Kotal, Jason Dodge, Lydia McGlinchey, Raimundas Malašauskas, Anne Faucheret, Anne Juren, Bruno Pocheron, Alice Chauchat, Mette Edvartsen, Litó Walkey, Clara Amaral, Valentina Desideri, Christian Kosmas Mayer, Olia Sosnovkaya, Serena Lee, Elizabeth Ward, Claire Lefèvre, Virginie Bobin, Agnès Quackels, Silvia Fanti, Jacopo Lanteri, Samuel Feldhandler, Mzamo Nondlwana, Goda Budvytytė, Ari Ban, Auguste De Boursetty, Catol Teixeira, Yvane Chapuis.