This book/catalogue is published on the occasion of the final event of Noa & Snow, a gentle experiment between the everyday and the event, at the Volkskundemuseum, Vienna.
get the book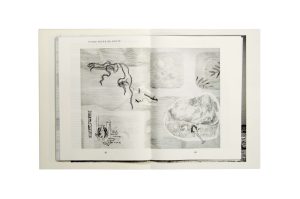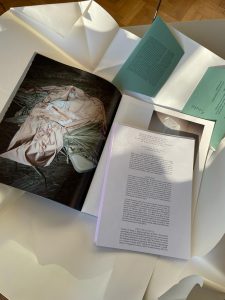 Publication Concept Alix Eynaudi, Goda Budvytytė Design Goda Budvytytė – Printing Robstolk, Amsterdam – Edition 600 copies – Proofreading Bella Marrin
Published by BOM DIA BOA TARDE BOA NOITE Rosa-Luxemburg-Strasse 17 10178 Berlin, Germany www.bomdiabooks.de ISBN: 978-3-96436-058-8
this publication is funded by The Austrian Science Fund (FWF) via PEEK Programme for Arts-based Research, project AR 553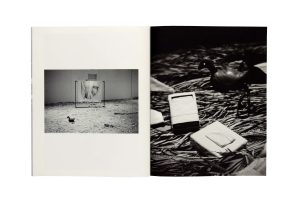 ENVELOPE Pattern design based on the Lila Dress and its signature cording by An Breugelmans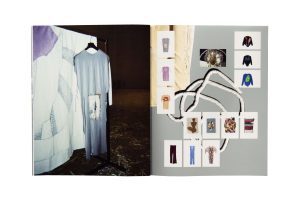 LE VESTIAIRE
Costumes & objects An Breugelmans Tapestries & trompe-l'oeil Cécile Tonizzo Weaves Lydia McGlinchey Photos taken inside of Jason Dodge' show Cut a Door in the Wolf at Macro Museum by Carlotta Pierleoni Photos in Vienna Samuel Feldhandler
THEM, PROTEXTIONS
Han-Gyeol Lie, Mette Edvartsen, Lydia McGlinchey, Clara Amaral, Ujjwal Kanishka Utkarsh, Jennifer Lacey, Cécile Tonizzo, Sabina Holzer, Alice Chauchat, Jason Dodge, Joachim Hamou, Quim Pujol, Litó Walkey, Serena Lee, Mihret Kebede
PUBLIC MEDITATIONS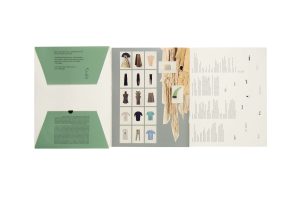 Anne Faucheret, Elizabeth Ward, Kirsty Bell, Tony Just, Sabina Holzer, Samuel Feldhandler, Frida Robles
TEXTURAGES Paula Caspão VIGNETTES Alix Eynaudi
Poster picture of Claire Lefèvre's Grimoire/Giant Notebook/Bison Book Rasa Juškevičiūtė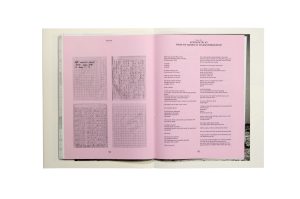 INSTITUTE OF REST(S)
Alix Eynaudi, Paula Caspão, Quim Pujol
Back side A thread for Alix Eynaudi, woven as a table placement by Genė Janušauskaitė in 1936, out of the flax she had sawn and harvested herself. Photographed by Kristien Daem in 2022, after Aldona Malašauskienė revealed the placement to her son Raimundas.
Co-produced by brut Wien, Volkskundemuseum Wien, Wien Modern, Tanznacht Berlin, ICI-CCN Montpellier, boîte de production
boîte de production is supported by The Creative Europe Programme of the European Union through Life Long Burning, Kulturabteilung der Stadt Wien, the Kulturkommission Josefstadt, DANCE ON TOUR AUSTRIA – a project by Tanzquartier Wien in cooperation with the Federal Ministry for European and International Affairs, and BMKOES— the Austrian Federal Ministry for Arts, Culture, Civil Service and Sport
In cooperation with Le Farº Nyon and XING Bologna
In friendship with Expanded Practices All Over (2019–2022), Curated by Paula Caspão at the Centre for Theatre Studies / Lisbon University (FCT Funds), in partnership with Espaço Alkantara, TBA Theatre, Casa Atelier Vieira da Silva, FLAD
The Deutsche Nationalbibliothek lists this publication in the Deutsche Nationalbibliografie; detailed bibliographic data is available on the Internet at www.dnb.de. All rights reserved, including the right of reproduction in whole or in part in any form. © 2022, authors, BOM DIA BOA TARDE BOA NOITE. Printed in the EU
NOA & SNOW, a gentle experiment between the everyday and the event PROJECT DEALER Alix Eynaudi CLOSE ACCOMPLICES Paula Caspão, Quim Pujol PRODUCTION MANAGEMENT Eva Holzinger / mollusca productions for boîte de production ACCOMPLICES FROM AFAR Lydia McGlinchey, An Breugelmans, Cécile Tonizzo, Joachim Hamou. Many thanks to the Noa & Snow guests not present in this book Valentina Desideri, Christian Kosmas Mayer, Mark Lorimer, Bruno Pocheron, Paul Kotal, Alex Franz Zehetbauer, Soeyon Park, Tom Pauwels, Ruthie Jenrbekova, Stina Ehn, Robert Trappl, GPT-3. This project was made possible with the love, trust & support of Quim Pujol, Paula Caspão, Agnès Quackels, Jennifer Lacey, Alice Chauchat, Jacopo Lanteri, Silvia Fanti, Raimundas Malašauskas, Sarah Blumenfeld, Herbert Justnik and Michael Zellinger.