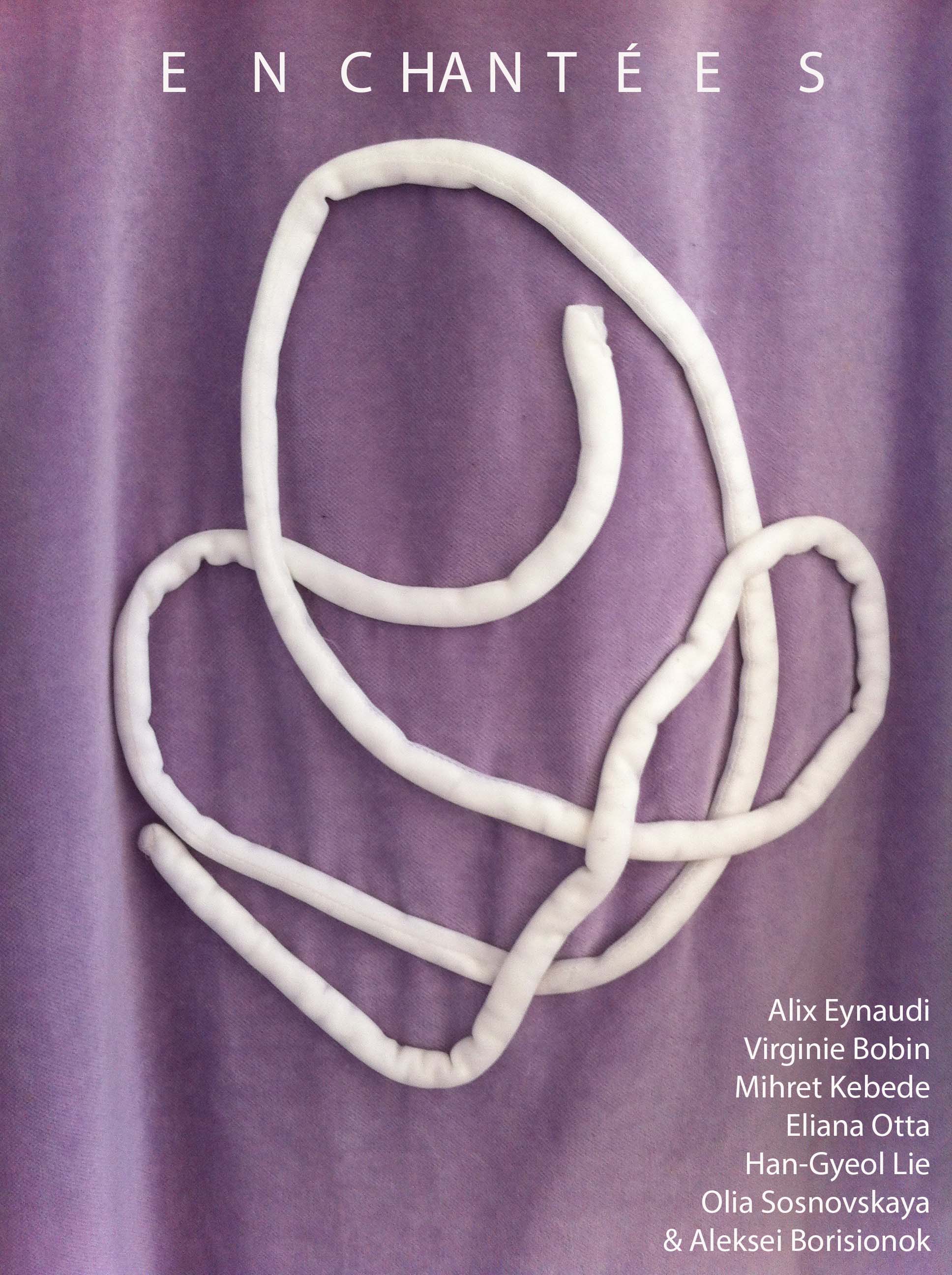 © An Breugelmans
E N C HA N T É E S
The latest developments in Alix's work talk of an interest in creating sites of collaborative production as opposed to "the one way and non-reciprocal broadcast of established knowledge" to quote choreographic artist, Jennifer Lacey. Situations that are implicating rather than explicating. Following her desire for research, education and collective performative practices to mingle and merge, Alix extends the invitation of TQW Explore to Mirhet Kebede, Eliana Otta, Olia Sosnovskaya and Virginie Bobin. These four researchers, loosely skirting the fields of dance and choreography, are, amongst other things, candidates for the Phd in Practice at the Academy of Fine Arts, Vienna.
E N C HA N T É E S, a collection of small acts (of joy and) imagination.
E N C HA N T É E S could be read as a school-hood of sorts, a learning platform, a thank-you-dance, a spell. The spell of a dance waiting to be danced.
Which values, modes of relating to one another or images do we want to infuse into the dense and mysterious cloth of our future?
We will think of our interventions as many prefigurative practices. Practices that entail a mode of doing and witnessing dance as a social activity that can be interpreted and read.
E N C HAN T É E S will look like this: each morning Alix will give a workshop literally happening in the future. Then, each evening will be organised around the work of one of the guests.
The evening events will take place in a room, specially designed by Alix and her guests, where comfort and ornamentation, in their Aesthetic Activism*, knit a context for things to happen. Mirhet, Eliana, Olia, (together with Aleksei Borisionok) and Virginie, in the company of Alix, will each day share a series of experiments, small performances, collective practices with the audience. The audience will be invited to participate in the collective activities, with of course the possibility to only witness.
The last day, Saturday, will be an experimental gathering around a musical intervention dedicated by Han-Gyeol Lie & her guests to Alix Eynaudi & her guests: Parallel Encounters: an event imagined by Han-Gyeol Lie in collaboration with Alix Eynaudi.
*The term Aesthetic Activism was coined in a symposium, convened by Mark Foster Gage in 2016, exploring emerging positions that cast aesthetics as the primary discourse for social, ecological, and political engagement.
Some floating thoughts around this week: of the importance of implicating and not explicating, friendship and poetry as subtext, let's allows hypothesis to spill from under the most unspectacular actions, create the conditions for things we don't know to happen, host our dances, notebooks, thoughts; think about them as guests, let's not be afraid of things because they're easy to do, prefer physiology to concepts , allow the passing awareness of being at a threshold, find a margin, a manœuvre you didn't know you had..
Expand.
Guest-organiser Alix Eynaudi
Production Eva Holzinger & Sophie Schmeiser in collaboration with the Tanzquartier team.
Interventions Virginie Bobin Alix Eynaudi Mihret Kebede Olia Sosnovskaya & Aleksei Borisionok Eliana Otta Han-Gyeol Lie
costumes and objects An Breugelmans Cécile Tonizzo